Typing skill is required in every job. You must possess a good typing speed if you are looking for a good job. Both the public, as well as private firms, require typist. In the current time, typing proficiency is a must. It is the most vital and primary skill require to apply for a job. We can see in many recruitment notifications that their primary requirement is typing skills. They mention that a candidate must possess good typing speed. Typing speed and skill is a basic requirement, any company whether public or private wants a typist to perform their clerical and data entry work.
Typing tests are based on the requirement of the service. Some entities want a fast typist while some require a normal typist. Fast typing speed is mostly requiring in Data entry. An individual must have fast typing speed if he/she is preparing a data entry post. Different states of India conduct different typing tests to check the proficiency of the candidate. These tests are held at computer-based test centers and these tests are meant to check the speed, accuracy, proficiency in typing of the candidates. Typing tests conducted by states help the candidate during the interview session of a job. Candidate can procure their certificate of typing test during the interview.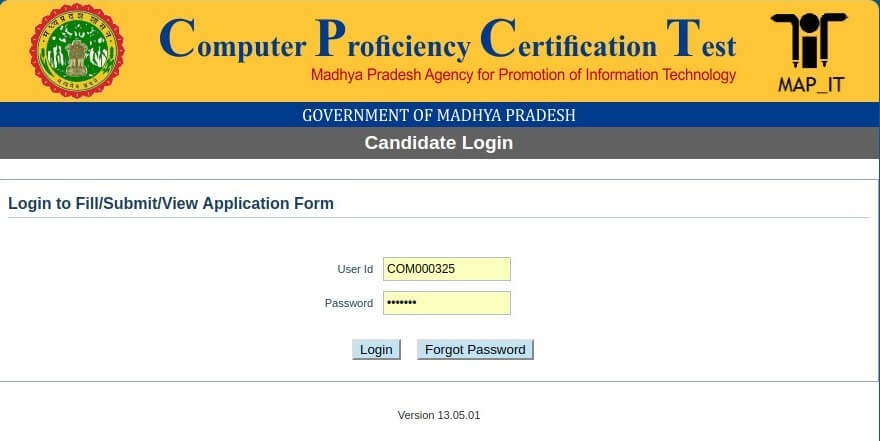 What is CPCT?
CPCT stands for computer proficiency certification test. This proficiency test is conducted in the state of Madhya Pradesh to check the proficiency and skill of the candidate. To get a job in Madhya Pradesh, a candidate must possess a CPCT certificate in order to get the job. CPCT certification is must for those jobs which require computer skill and typing proficiency. CPCT test is the same as other exams. CPCT test is conducted in two sittings, it has multiple choice questions in the first round and typing test in the second. Candidates must have to give the test in English as well as the Hindi language. CPCT exams are held twice a year in Madhya Pradesh. Candidates must have to appear in the exam to get the scorecard in order to get a job that requires computer skill and typing speed.
Who can take the CPCT? 
Any student who has passed his/her 12th(intermediate) board exams is eligible to appear for the CPCT exam. The age of the candidate must be 18 or above to appear in the examination. Those students who have passed the polytechnic diploma are also eligible for the CPCT exam. Tenth pass students are not eligible to give CPCT exam.
Who Accepts CPCT Scores?
A lot of government offices of Madhya Pradesh seek CPCT scorecard for various positions of recruitment. Those departments of government offices that require proficiency in typing and good computer knowledge accept CPCT scores. CPCT certificate is required for all kind of job which requires computer knowledge and typing speed, the jobs can be permanent or on contractual basis. There are various kinds of jobs that require a CPCT score, some of these are Data Entry Operator, Typist, LDC, UDC, Office Assistant. In short, all kind of jobs in the state of Madhya Pradesh which requires computer skill and typing speed, CPCT score will be mandatory.
Exam pattern and marking scheme
As CPCT exams are meant to check the proficiency and skill of the candidate in typing and computer. This exam is conducted on a computer. After applying for the exam, candidates get the admit card for the test. in the admit card, the date, time, and venue of the test are mentioned. Students can apply for the CPCT exam through online mode only. There is a fixed registration charge for the CPCT exam, students belonging to any category will have to pay Rs.660 registration fee in order to appear in the examination. The total duration of the exam is of two hours.
CPCT exam is conducted in two parts. In the first phase, candidates will get objective type questions and he/she will have to choose the right answer from the given options. The second phase of the exam is typing test. both the phase of the exam was held on the same day. So, candidates are required to attend both the exam. If a student gives a single phase and doesn't appear in another, then he/she will be considered absent from the exam. In order to get the proper certification, students must have to be present in both parts of the CPCT examination.
The syllabus of the exam can be downloaded from the official website of CPCT.
CPCT typing test pattern
CPCT typing test held in both the language, that is Hindi and English. So, the candidate has no option to choose a single language for the typing test. Candidates will have to adapt to both languages and possess good typing speed in English and Hindi. In the Hindi typing test, a candidate must possess a minimum speed of 20 words per minute of typing. In English, the candidate must have a minimum typing speed of 30 words per minute. If a candidate has more speed typing than the minimum limit, he/she will get more marks on the CPCT scorecard.
CONCLUSION
Typing and computer knowledge is a must in any kind of field which requires calculation and data entry. Typing and computer education must be added to the basic curriculum of the student. Students can even learn typing with the help of typing software available on the internet. Students those who are new to typing, they must start from the basic. They should learn the position of the alphabet on the keyboard and memorize it for future reference.
There is no shortcut to being a master. If you want to be a good typist, you will have to practice a lot and invest your time in it. Typing proficiency is not a thing that can be earned in a single day. A candidate must be updated with current typing software for proper practice because It takes a lot of time and practice to be a proficient typist.