Getting a government job in India is like finding gold in an ocean. Although, getting a govt is tougher than finding gold in the ocean. There are a lot of merits of govt job and one of them is Job security. A greater section of India's population belongs to the middle class. Not everyone can afford to invest in a business or a start-up. A major section of India's youth population prepares for government job for a better lifestyle and come out from their conventional living of standard. Many youngsters of India dream of becoming a government officer and appear for several exams.
Every year millions of students appear for different kinds of competitive exams and try their hard to crack those exams. Some of the prominent competitive exams are conducted by SSC (staff selection commission). SSC conducts a variety of exams in India based on educational qualification. Mainly there are two major exams conducted by SSC in which millions of students compete against each other. These exams are SSC CHSL (Combined higher secondary level) and SSC CGL (combined graduate level). Those who have passed 12th standards are eligible for SSC CHSL and those who are graduate, they can apply for SSC CGL.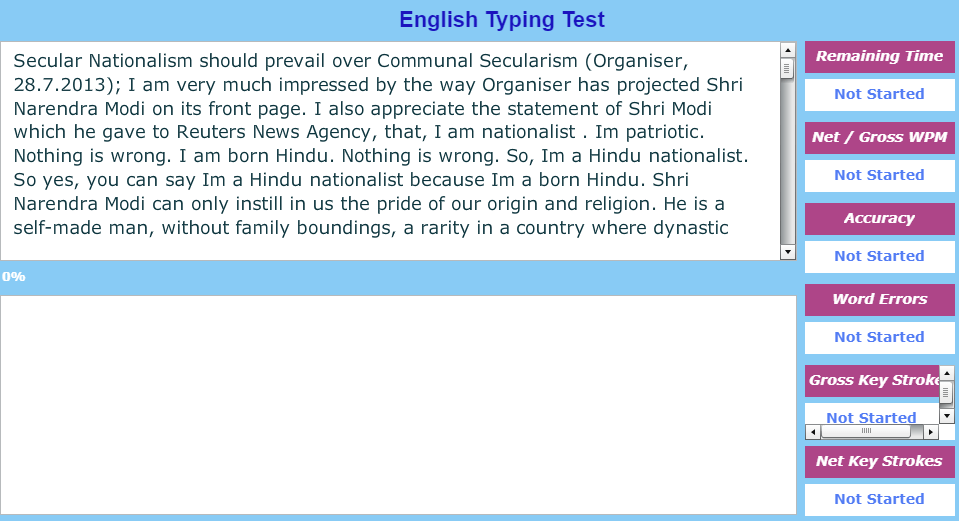 SSC TYPING TEST
SSC conducts one of the biggest exams in India. There are some vital posts in SSC which require typing test. A student must have to be a skillful typist to get a particular post in SSC recruitment. To be a proficient typist, a candidate requires a lot of practice and stern dedication to be the best. There is a lot of ministerial and non-ministerial post in the SSC which wants skillful typists. A skillful typist doesn't mean that he/she has to type fast, rather it means the person must type fast with very minimal errors. The more errors come in the typing test; the more there will the chances to fail the exam. So being a good typist means typing with no error in less time. Practice is the only key by which a candidate can gain optimum speed in typing.
SSC conducts typing tests basically after the phase-1 examination. In SSC CHSL, those candidates who qualify for the phase-1 exam with good marks, become eligible to appear for the typing test. Phase-2 of the SSC CHSL exam is Typing test. SSC CHSL Posts in which typing required are Lower Division Clerk (LDC), Junior Secretariat Assistant (JSA), Postal Assistant (PA), Sorting Assistant (SA). While in SSC CGL typing tests are held according to the marks obtained by the candidate. There are numerous posts in SSC CGL recruitment and not all of them require typing test. Those posts require the Typing test; they call the candidate according to their obtained marks in pre and mains of the SSC CGL exam. Posts like Assistant (CSS) and Tax Assistant for CBEC and CBDT require typing tests in the third phase of the examination. These are some of the prestigious posts offered by SSC in its CGL exam.
IMPORTANT GUIDELINES AND CONDITIONS   
Those students who have successfully cleared the previous phase of the respective SSC exam will be intimidated for the typing test on a particular date. Students don't need to carry their computer or laptop to give the test. exam authority will provide all the necessary equipment required for the test.
Typing tests conducted on the computer provided by the test center authorities at the test centers. Candidates must follow all the guidelines of the SSC before starting the typing test. There is no need to rush to complete the test. All the students will have the same time to complete the test.
The process and mode of the test must be followed according to the test centers. Candidates must listen to their invigilator about the information and guidelines. A minute error can cause drastic damage.
Students can have the option to choose their preferred language for typing tests. a candidate can choose either English or Hindi. A candidate must be conscious while choosing his/her preference of language for Typing test.          
TYPING SPEED
Candidates who have chosen English as their preferred language for typing test must possess a typing speed of 35 words per minute. The speed must be calculated on the computer and it will be beneficial for the candidate to practice typing on the computer.
Those students who have chosen the Hindi language for their typing test. They must possess a typing speed of 30 words per minute on a computer.
Those candidates who Pass the initial phases of SSC exams must devour themselves in the practice of typing as soon as possible. Typing speed and skills can be acquired in a day, it requires months of continuous practice.
TIPS TO INCREASE TYPING SPEED
Those students who have cleared the first phase of the SSC CHSL exam or those who have been selected for typing test for various posts in the SSC CGL should start practicing from day one. Candidates can practice on their computers for typing tests. the only thing which will help the student to clear the typing test is practice. Students must learn the alphabet pattern of the keyboard. Learning alphabet patterns will help the student in typing fast. For better practice and Real-time typing test experience, candidates can easily download good typing software from the internet for convenience and better practice in typing. Typing software is available in both Hindi as well as the English language.
CONCLUSION
It's a dream of every middle-class student to join government services so that he/she can give a better future to his/her parents as well as family. Nowadays, competition has increased multiple times and it is really hard for a student to compete in the current scenario. Strong willpower and exceptional skill are required to be in the race of joining government office. SSC is a ship that only sails with smart and exceptional candidates, those candidates who are willing to put their extra effort into the preparation. The way to get a government job is not easy but at the end of the road success is waiting with garland of flower in its hands.